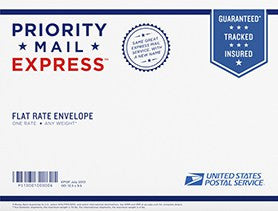 Expedited USPS EXPRESS (not priority) Shipping Option: Most Kits over 6" Long - USPS EXPRESS 2 Day Max; EXPRESS
FOR PRIORITY EXPRESS/ Overnight/ 2 Day Guaranteed DELIVERY TO YOUR ADDRESS FOR LARGER THAN 6" RING KITS OR LINEAR KITS LONGER THAN 10".  This will allow us to ship via USPS EXPRESS instead of FedEx or UPS Ground for your package; Guaranteed 2-Day Max Express delivery to anywhere in the Continental US as well as Hawaii (usually) as well as weekend delivery... verify with us at 813-600-5592 for any packages or rings / burners larger than 24" long or we will call or refund this amount if we cannot use USPS Priority for your order.
Choosing this option will add $60 to your existing order amount. Normal Fee is approximately $85 for this service via USPS.
- Easy Fire Pits.