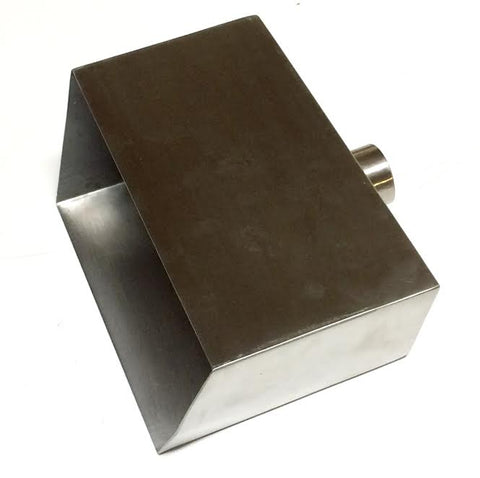 SCUP24S STAINLESS WATER SCUPPER/ WATERFALL SPILLWAY 3.5″W (BOTTOM) 4.75″W (TOP) 4″ DEPTH; 3/4 FEMALE PIPE INLET
SCUP24S Stainless Water Scupper/ Waterfall Spillway 3.5″w (bottom) 4.75″w (top) 4″ Deep; 3/4 Female Pipe Inlet. See Gallery Photos for all dimensions of this and our 5 other sized scuppers. 
Build a Fire Fountain or adorn your pool with a nice water/ fire bowl and spillover.  Heavy Duty Stainless Water Scupper / Waterfall Spillway w/ 3/4 inch female supply on the back. This product does not have the 1″ surrounding Lip on the front with the scupper actually coming thru it (which allows you to bond to a surface and also keeps water from back flowing / dripping back into the bowl). The Model with the Lip would be the SCUP24SL with same dimensions. See our 3/4 inch water hoses in 24 and 32 inch lengths (available MxM and MxF; Search WH24 or WH32 for models).